| | |
| --- | --- |
| | |
| Members of HR Association at Vietnam HR Day 2009, held on 31 October 2009 at NCC (National Convention Centre, Hanoi) | |
The event Vietnam HR Day was at the first time organised on 31 October 2009 at National Convention Centre, Hanoi. (Co-)organisers have been Eduviet Corp, HRA (Human Resources Association), CPO Club (Chief People's Officer Club) and HRLink.vn. The event attracted more than 500 HR professionals, entrepreneurs, university instructors, and others. Preparation took about 5 months. This year, on Saturday 29 May 2010, the Organisational Committee had its very first preparation meeting for Vietnam HR Day 2010. At the moment, the preparation has "taken off". The Event already has VietnamWorks.com as Main Sponsor. Fundraising activities and communications are going actively.


THE PREPARATION PROCESS
The first meeting this year was held at Eduviet's new head office at 19 Trung Yen 1 street, Cau Giay district, Hanoi. Most of the issues discussed have been first ideas, such as suggested date and venue, localities (Hanoi and/or Ho Chi Minh City), who will be the umbrella and endorsing organisations, etc. The Committee has discussed the structure of morning and afternoon sessions of the conference, taking into account lessons learnt from the previous year.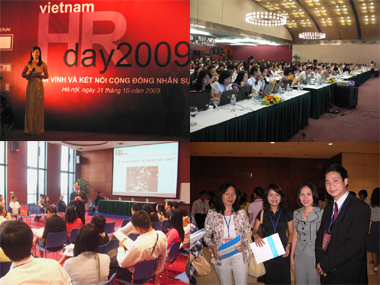 Vietnam HR Day 2009: Some views from various activities. National Convention Centre, Hanoi 31 Oct 2009. (Photos by DTK Consulting and HR colleagues).
Aiming to use National Convention Centre for HR Day 2010 in Hanoi, at the 3rd meeting of the Organisational Committee held on 18 July 2010, a fixed date has been chosen for this year's event in the capital city: 07 November 2010. Anyway, 31 October will probably be an anniversary for the Vietnam HR community. In Ho Chi Minh City, a 'sister's event has been planned for 31 October 2010.
So the Organisational Committee, Vietnam HR community, HR Clubs (under various names), supporting organisations and interested individuals will have 5 months to actively prepare for Vietnam HR Day 2010.
HOW TO PARTICIPATE?
HOW TO BECOME A SPONSOR?
Below are links to key documents that companies and potential sponsors surely will be interested in:
1. Vietnam HR Day 2010 - General Introduction
2. Invitation Letter to Potential Sponspors (V1.9.10)
3. Information for Potential Sponsors (V1.9.10)
DTK Consulting, updated on 01 Sep 2010
Trở về phiên bản tiếng Việt của bài này.
Click here to read Frequently Asked Questions by Potential Sponsors.
Relevant articles:
Vietnam HR Day 2009 has been Such a Success (by DTK Consulting, Nov 2009)